Jessy Moulin, ASSE goalkeeper, is expected to sign at ES Troyes AC in the next few hours, except last minute reversal. This Monday, he released yet another sizeable clue on his departure, following the confirmation of Claude Puel.
ASSE: Jessy Moulin bids farewell to Loïc Perrin
Claude Puel confirmed in The team that Jessy Moulin told him about his desire to leave ASSE this summer, after 22 years at the Loire club. "He was the one who made this decision. We had a little discussion. At her age, I'm not going to stop her from marrying another project ", confirmed the coach of AS Saint-Étienne, while specifying that the goalkeeper of the Stéphanois "is studying a proposal with another club". And the other club is the promoted to Ligue 1, ESTAC.
After a first veiled message on Saturday: "Try to be an example all the way. Let's go Green ", the AS Saint-Étienne goalkeeper confirmed his imminent departure on Monday. In a farewell message to his former teammate and iconic Greens captain (2007-2020), Loïc Perrin, Jessy Moulin balanced: "Goodbye my darling !! " A message followed by the video of his departure from the Robert-Herbin sports center by car.
Perrin et Moulin, longevity record at AS Saint-Étienne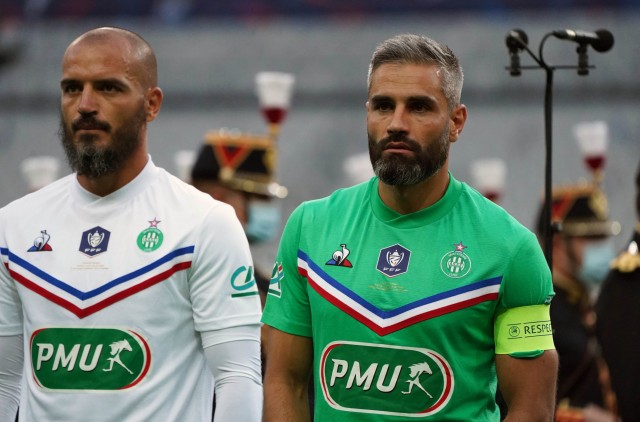 Loïc Perrin (36 years old on August 7th) and Jessy Moulin (35 years old) have been teammates, from the ASSE academy to the first team, including the youth categories. The former joined the Greens in 1997 at 12, while the latter arrived in 1999 at the age of 13. The central defender retired in August 2020 is now advised of the Loire club, for the structuring projects of the institution, in addition to his title of Life Ambassador of Sainté since 2013. He remained 23 years in the team of Saint-Étienne, his birthplace. Or a year older than Jessy Moulin.