Foot – Mercato – ASSE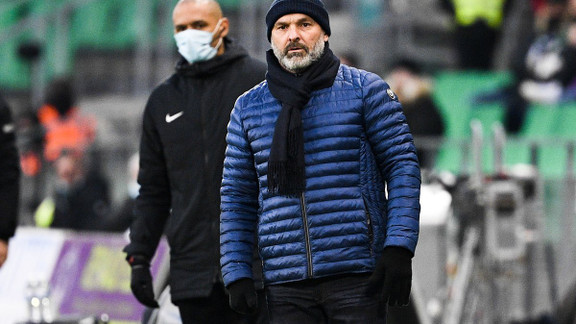 While ASSE was very active during the winter transfer window, Pascal Dupraz takes stock of the recruitment of the Greens. And the technician does not hide his satisfaction at being able to count on a group of experience to try to stay in Ligue 1.
This winter, theAS Saint Etienne was eagerly awaited on the transfer window. And for good reason, the Greens have seen several executives slip away at the CAN and therefore had to strengthen in order to fight for the maintenance. Barely arrived on the benchASSE, Pascal Dupraz demanded several recruits, first for certain positions, like a center forward, but above all, the former coach of Toulouse wanted to see experienced players land. It must be said that the project of Claudius Puel was to bet on youth, but given the results, it is clear that it is a failure. As a result, Pascal Dupraz absolutely wanted seasoned players to strengthen his group and try to snatch the maintenance. Another condition required by the technician, the new players had to know the League 1 so that their integration is quick and efficient. With this in mind, seven players have come to strengthen theASSE to know Bakary Sako, Paul Bernardoni, Sada Thioub, Eliaquim Mangala, Joris Gnagnon, Enzo Crivelli and Falaye Sacko.
Dupraz enchanted by the transfer window
In an interview with GOAL Soccer Club, Pascal Dupraz thus judged the winter transfer window of theASSE : " We stuck to what we agreed to. I am satisfied with what we have done. There is quantity. We took six players, seven including Joris Gnagnon who was already there when I arrived. The club had already signed up with him. I have good hope that these reinforcements will be there. We will see in the test. "Satisfied with the recruitment, the coach of the Greens however refuses to completely ignite, and is now waiting for the end of the season to be filled. " I'm not smug either, I'm not naive. The height is at the end of May, with the maintenance. But I'm very happy with what we achieved. We brought experience. Most of the players we took know the L1, or they know the top level (…) I will have a lot of choice. It is very good. We will not end the season at 11. There are still 15 matches left. I hope to change my compositions often while remaining efficient. It's good to have a rich squad », adds Pascal Dupraz who also speaks about the beginnings ofEliaquim Mangala and of Falaye Sacko, started for the first time on Saturday against Montpellier. " Eliaquim, I had planned to take her out very quickly in the second half because he had a yellow card and you had to go in stages with him, but with his knowledge of placement he reduced his efforts. As for Falaye, it's our Geronimo from Saint-Etienne, with his iroquois. It was interesting ", he concludes.