Foot – Mercato – ASSE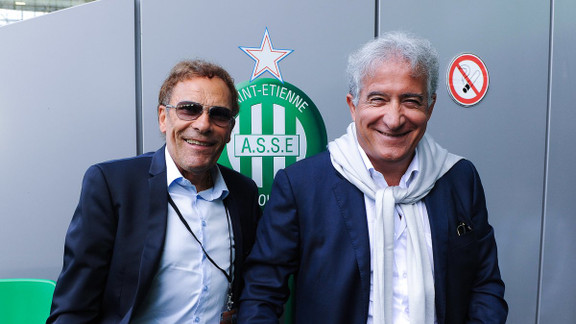 While Bernard Caïazzo traveled to the United Arab Emirates this week to meet with the Dubai Sport Council, several people are already fantasizing about a possible takeover of ASSE in the future. However, this scenario is not expected to emerge immediately.
In recent years, the League 1 witnessed the arrival of several foreign businessmen eager to invest in football. Qatar first decided to buy the PSG to make it its head of the gondola before the arrival of the Russian billionaire Dmitry Rybolovlev at theAS Monaco. TheOM, the Girondins of Bordeaux or theOGC Nice were subsequently bought out, with varying degrees of success. In 2018, supporters of theAS Saint-Etienne also thought to pass under the American flag with the arrival of Peak6 which finally fell apart. Bernard Caiazzo and Roland romeyer have therefore remained at the head of the Saint-Etienne club, but could this change soon?
A Gulf shareholder at ASSE? Not for now
This week, Bernard Caiazzo was in the United Arab Emirates to meet the Dubai sport council, the equivalent of the Minister of Sports. Something to stir up rumors, but the chairman of the supervisory board of theASSE was on site to forge partnerships with the training center and specific local clubs Progress this Saturday. The Greens would like to create within two years a global network of club partners in order to encourage the arrival of investors. However, Goal Football Club put forward a list of obstacles that could compromise a possible term redemption. First, the duo Caíazzo–Romeyer would mainly like to set up a minority partnership and not leave the control to a state fund as happened in Manchester City or to PSG. RMC had already revealed at the start of the year that the two men were not opposed to a sale provided they remained in their posts. Furthermore, Goal specifies that Roland Romeyer, big supporter ofAS Saint-Etienne, would not necessarily welcome the arrival of a Gulf state at the head of its club, favoring the arrival of French investors attached to the values ​​of theASSE. Then, the attractiveness of the city of Saint Etienne could be a problem, and Roland Romeyer was aware of this in 2014 at the microphone of France Blue : " Do not confuse Saint-Etienne and Paris. The Qataris bought PSG not just for sporting reasons. Saint-Étienne, 14 th city in France, is economically in difficulty. "Add to this the huge lead taken by the PSG and the uncertainty currently reigning over the future of French football with the Covid-19 crisis and the Mediapro, it therefore appears difficult to imagine the arrival of a powerful shareholder from the Gulf in the short or medium term.